How to Dry Brush for Lymphatic Drainage, Detox Support, and Natural Skincare
Posted On April 20, 2022
Supporting the lymphatic system of the body can be
a powerful way to encourage healing and support overall health.
Dry brushing is a practice that can help to support this system.
Here we will explore what dry brushing is, why it can be a helpful healing tool, and how to dry brush the most effectively.
Some of the links in this article are affiliate links. This means that if you click the link and subsequently make a purchase on the merchant's website, we may earn a small commission at absolutely no additional cost to you. All opinions are entirely my own.
What Is Dry Brushing?
---
Dry brushing is a practice of using a brush in a specific manner on most surfaces of the body for the purpose of stimulating the lymphatic system, exfoliating the skin, and more.
The lymphatic system of your body is part of the immune system. It is comprised of the lymph nodes (mostly located in your armpit area, neck area, breast area, and groin area), lymph vessels, lymphoid tissues, and lymphoid organs (such as the spleen, thymus, and bone marrow) that are located at various points throughout the body.
The lymphatic vessels are present right beneath your skin.
The lymphatic system helps to fight infection and to detoxify various forms of toxins.
It does this in part by producing cells that help to eradicate pathogens or foreign invaders. An example of these are white blood cells called lymphocytes.
The lymphatic system produces lymph liquid which is sent through the blood and is filtered through hundreds of lymph nodes throughout the body.
This is a key mechanism of how the lymphatic system works.
You may have experienced having "swollen lymph nodes" when you've been ill before. This is an example of the lymphatic system in action.
Dry brushing, by encouraging and speeding up blood flow, can henceforth encourage "lymphatic drainage," which helps the lymph fluid drain from the lymph nodes and into the blood where it carries pathogens and toxins to be released from the body.
In addition to stimulating the lymphatic system, dry brushing can also be helpful for:
Increasing circulation
Exfoliating the skin/natural skincare
Encouraging and assisting detoxification
Promoting relaxation
Dry brushing is an easy and natural way to exfoliate the skin, or to remove dead skin cells. It can also help to clean out pores.
Very soon after I began dry brushing, I definitely noticed that my skin was much softer and more smooth.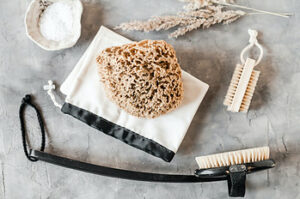 The Best Dry Brush to Use
---
A good dry brush will have natural bristles and won't feel too rough on your skin.
There are soft bristle options and more firm bristle options depending on your personal preferences.
The Essential Living 3 Piece Dry Brush Set is an excellent option, as it contains both a soft and firm brush that are interchangeable.
This kit includes the following:
A 12″ wood handle that can be used with both brush heads
A soft natural boar bristle brush head that can be used if you prefer a softer brush or if you are just starting out with dry brushing
A firm sisal plant fiber bristle brush head for deeper exfoliation and a more firm texture
A smaller, very soft boar bristle brush for facial use that fits comfortably in the palm of the hand
A cotton travel bag
I like this kit because it is all-in-one and comprises only natural components and bristles. It also has a hand strap on the back of the brush if you wish to use it without the handle which allows for a good grip.
The long handle option is awesome to use when you want to reach more areas of the body.
Click here to check it out.
⭐️Use code drybrush20 for 20% off of your order 🙂⭐️
How to Dry Brush
---
It is best to dry brush right before you shower.
I keep my dry brush hanging in my bathroom and use it while standing in the shower before turning on the water. That way, I can wash off all of the dead skin cells, etc that I loosened during the dry brushing process.
Make sure your skin is completely dry before starting.
You'll also want to avoid dry brushing right after you've applied any type of lotion or product to your skin.
Hold your dry brush either by its handle or from the back of the brush if you have a hand held brush and apply a medium pressure against your skin.
You don't want the brush to be irritating or make red marks on your skin. If this happens, reduce the pressure you are using.
You are going to be brushing toward the direction of your heart from all locations.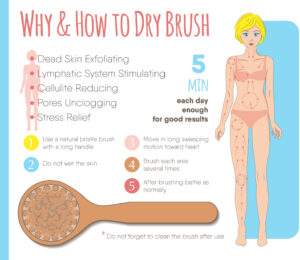 Starting on the bottoms of your feet, you are going to apply medium pressure with the brush and move it upward in the direction of your heart in long sweeping motions.
Sweep over each area several times.
Move up from the bottoms of your feet, to the tops of your feet and ankles, then to your shins, and up to your knees and thighs.
You will be covering all surfaces of the skin around the circumference of your legs and up to your waist etc, all the while continuing an upward motion toward your heart.
There are collections of lymph nodes at your groin area, toward the front of the body where the upper thigh meets the core of your body. You can place the dry brush on this area and sweep over it in the upward motion to encourage drainage from these lymph nodes.
You then move up to your abdomen area and around to your back.
Move to your arms starting at your wrists and moving upward all around the circumference of your arm.
There are collections of lymph nodes in your armpits, so you will want to brush this area as well to stimulate drainage from these nodes.
Once you get to your chest area, you are going to be going down toward your heart instead of upward like you've been doing. So brush starting at your shoulder and down over your breast area to your heart in long sweeping motions. There are also lymph nodes near the breast area to make sure you are covering.
Then move up to your neck area, starting at your jawline and moving downward toward your heart still. There are collections of lymph nodes along your jawline so this area is good to cover as well.
I don't brush my face every time I dry brush, but when I do I use the smaller dry brush as pictured above in the 3 piece set that is best used for face brushing.
I also use these natural skincare products to nourish and exfoliate my skin and they work wonders as well.
The entire process will take around 5 minutes, but can take up to 15 to 20 minutes if you choose to focus on particular areas for longer.
You'll want to avoid brushing any areas where you may have extra sensitive skin or areas that have wounds or rashes.
When I was first learning how to do it, I taped a diagram of the different points where there are collections of lymph nodes to my shower wall so I could refer to them :). It was really helpful for reference until it became second nature.
How to Clean Your Dry Brush
---
You'll want to clean your dry brush about once every week or 2, especially if you use it every day.
I clean mine approximately every 10 days, because I dry brush about 5 times per week.
This is to ensure that the dirt, dead skin cells, bacteria, etc that have been removed from your skin don't build up on the brush and its bristles.
Supplies you will need to clean your dry brush:
A shallow bowl that is big enough to fit the top of your brush in, if you use one with a handle, or big enough to fit your whole hand held brush if not. You want it to be pretty shallow because ideally you don't want the wooden part to get too wet.
Antibacterial essential oils such as tea tree oil, peppermint oil, and/or eucalyptus (I use both tea tree and peppermint). The best oils I've ever used are explained here.
Water
A towel to set your brush on to dry.
To clean your brush:
Fill the bowl with water about 3/4 of the way to the edge of the bowl.
Add a few drops of your oils and stir it around – I add 3 drops each of the tea tree and peppermint oils.
Place your brush in the bowl with the bristles facing down. Ideally, you don't want the wooden part of the brush to get wet.
Swish the brush around in the water for a minute or so and then leave it in the bowl for about 10 to 15 minutes.
Remove the brush and dump out the water and refill it with just fresh clean water.
Place the brush in the water bristles down and swish it around in the water for a minute or 2.
Remove from the water and place on a clean towel with the bristles facing down.
Flip the brush over after an hour or two so they are now facing up.
Don't use your brush again until it has dried completely.
Making sure to wash your dry brush regularly will also ensure that it lasts for a long time, usually years.
In Closing…
As we've explored here, dry brushing can be an excellent natural practice to help support key areas of the body most notably the lymphatic system.
This is a helpful and relaxing tool that can be incorporated into your healthy and healing daily routine today :).
---
REFERENCES