How to Raise Vitamin D Levels for Optimal Health
Posted On May 12, 2022
Ensuring that we are acquiring enough
vitamin D is a key component of achieving and maintaining optimal health, as this is a foundational nutrient that the body relies on for many important functions.
Here we will explore what vitamin D is, its many significant roles, symptoms of deficiency, testing methods, and how to raise vitamin D levels the most efficiently.
What Is Vitamin D?
---
Vitamin D, also known as calciferol, is a fat-soluble micronutrient that is also considered a steroid hormone.
Vitamin D has 2 main forms: D2 (ergocalciferol) and D3 (cholecalciferol). Vitamin D2 is the form that is found in plant sources. Vitamin D3 is found in animal-sourced foods and the form that is made by the body when exposed to sunlight.
Both vitamin D2 and D3 are used in dietary supplements.
The general daily recommended amount of vitamin D for adults is between 400-800 International Units/IU per day.
Vitamin D is converted by the liver and kidneys into its active form, calcitriol. This is the form that can be used by the body to fulfill its many important roles.
Physiological Functions of Vitamin D
---
Vitamin D is needed within the body to fulfill a wide variety of roles and functions.
These include:
Balance blood sugar
Promote calcium and phosphorus absorption and retention
Bone growth and bone remodeling
Cell growth
Controlling inflammation
Supporting immune system function
Nervous system function
Heart health
Muscle health
Brain health
Growth & development
More
Symptoms of Vitamin D Deficiency
---
Vitamin D deficiency can present in various ways, and relates to the above functions being impacted from a lack of sufficient vitamin D to be utilized.
Vitamin D deficiency is common, with an estimated 1 billion children and adults being impacted worldwide.
The following symptoms and conditions are possible indications of vitamin D deficiency:
Lowered immune function
Chronic fatigue
Muscle pain
Depression
Slow wound healing
Autoimmune conditions
Type 2 diabetes/insulin resistance
Osteoporosis
Dental problems such as periodontitis
Cardiovascular imbalances and conditions
Neurological disorders and memory problems
Kidney conditions
Asthma
Arthritis
Some cancers
More
These serious adverse health effects clearly indicate how incredibly important maintaining our vitamin D levels are for our health and well-being.
Testing Your Vitamin D Status
---
You can measure your body's vitamin D levels by acquiring a blood serum test that will gauge your 25-hydroxyvitamin D, or 25(OH)D, levels.

Most doctors will offer this test in their office. Many doctors have also started to include vitamin D testing as part of their yearly standard laboratory testing, so it is helpful to ask your doctor about this.
You usually do not need to fast before a vitamin D blood test, however it is always best to inquire with your doctor first to receive any special preparatory instructions per each unique lab test that you are acquiring.
Most labs will report 25(OH)D levels in nanograms per milliliter (ng/mL).
Opinions of what a "normal" level should be vary between a range of 20-50 ng/mL. Most clinicians will consider any level below 20 ng/mL to be indicative of a vitamin D deficiency.
Foods With the Highest Vitamin D Content
---
One way to help raise and maintain your body's vitamin D
levels is to include foods in your diet that contain this nutrient.
There is a caveat however, as there are few foods that are considered to be "high" in vitamin D, so food should not be your only avenue to acquire it.
That said, fatty fish is the best food source of vitamin D, including salmon, mackerel, tuna, sardines, herring, swordfish, and trout. Cod liver oil is also high. Including fatty fish in your diet at least a few times a week is optimal.
Other foods that contain some vitamin D include:
Organ meats such as beef liver
Egg yolks
Chicken
Cheese
Mushrooms
Additional Ways to Raise Your Vitamin D Levels
---
While there has been considerable attention given to the fact that excessive sun exposure is bad for one's health, little attention is often given to how sun exposure is good for our health and why it is necessary in controlled amounts.
Excess exposure is indeed not recommended, as this can have many negative health effects.
However, the key with sun exposure is moderation, which allows us to acquire its health benefits while avoiding its potential adverse effects.
One key health benefit of sun exposure is the fact that the body generates vitamin D as a result of skin exposure to the sun. This is why this nutrient is often referred to as "the sunshine vitamin."
When our skin is exposed to ultraviolet-B (UVB) rays from the sun, cholesterol (specifically, 7-dehydrocholesterol) is used by our cells to make vitamin D, which is then sent to the liver and kidneys to be converted into the active form, called calcitriol, as described above. This is the form that is usable by the body.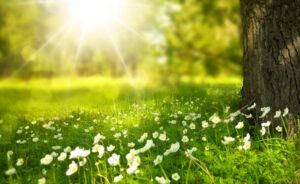 Spending approximately 30 minutes every day or every other day outside in the sun without a hat on and with some exposed skin is a sufficient way to acquire your vitamin D.
The body is best able to acquire vitamin D from the sun between the hours of 11am and 3pm, as this is when the sun is at its peak intensity.
I personally like to take a short walk at the lake near my house if I have time. I also intentionally park far away from stores and other locations so I can spend a little more time outside when running errands and such. I will also study and read outside in my yard, or sit outside at a coffee shop or cafe as opposed to always staying indoors.
There are of course other benefits to making these small shifts, such as increased exposure to fresh air which is incredibly beneficial to our health as well.
If you plan to be in the sun for longer than 30 minutes, wearing sunscreen is recommended.
Vitamin D is also available as a supplement, usually as a gel capsule or as a liquid.
Both vitamin D2 and vitamin D3 can be found as supplements.
Supplements are usually found in "International Units"/IU between 400 IU and 10,000 IU per serving.
Dosing is always particular to the individual, with an average recommended daily amount being 400 to 800 IU per day. This is the general amount of vitamin D that is recommended to sustain optimal levels.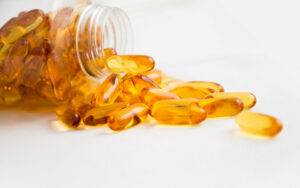 There is rarely a need for a daily dose to exceed 5,000 IU or more, as it is best to gradually increase one's levels via supplementation as opposed to taking high doses of any single nutrient in a short period of time.
It is best to take vitamin D supplements with a meal containing some amount of fat, because this nutrient is fat-soluble and its absorption is enhanced when in the presence of fat.
It is also often recommended to take vitamin K2 supplements along with vitamin D if you are taking a vitamin D supplement. This is because vitamin K2 (another essential fat-soluble nutrient needed by the body) works with vitamin D to properly metabolize calcium by depositing it into the bones effectively.
For this reason, there are some supplements that you will find that contain both vitamin K2 and vitamin D in the same product.
There are devices that can be used to mimic the UVB rays from the sun, which in turn helps to facilitate vitamin D generation within the body. These devices are referred to as vitamin D sunlamps.
Not to be confused with any kind of tanning equipment, a sunlamp is designed specifically for producing vitamin D and is only used for 5 minutes, every other day to fulfill this purpose.
Some doctors will recommend sunlamps as part of a protocol to raise vitamin D levels if one is deficient, especially if you have limited sun exposure due to your geographical location or for other reasons.
Click here to check out my top sunlamp recommendation.
A Note to Consider
---
All of the nutrients within our body have an influence on each other and it is key to consider these relationships and influences when balancing our unique nutrient status.
Increasing vitamin D within the body can potentially lower potassium. Potassium is a very important electrolyte mineral that is responsible for many functions including adrenal gland function, fluid balance, muscle function, and more.
While improving your vitamin D levels, it may be necessary to supplement with potassium in order to ensure that your levels remain balanced.
In Closing…
As we've explored here, vitamin D is a critical nutrient that is needed by the body to fulfill many significant roles and functions.
Utilizing a multifactorial approach is generally the best way to ensure that one is meeting their body's vitamin D needs.
---
REFERENCES