What Is the Best Natural Skincare? Affordable, Clean Products for Healthy, Glowing Skin
Posted On March 1, 2022
Switching to natural, "clean"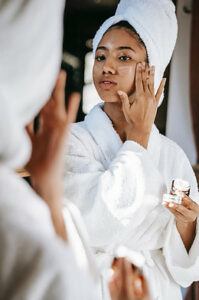 skincare products is a huge step in the right direction when adopting a more health conscious lifestyle. The products that we use on our skin are just as important as the food that we eat, as it is all absorbed and metabolized by our body.
Here we will explore why it is so important to use natural skincare products, some of the toxic ingredients to avoid, and the best natural skincare line.
Some of the links in this article are affiliate links. This means that if you click the link and subsequently make a purchase on the merchant's website, we may earn a small commission at absolutely no additional cost to you. All opinions are entirely my own. I have used all products mentioned personally for years.
The Huge Importance of Using Natural Skincare
---
Our skin is our largest organ.
Anything that we put on our skin is subsequently absorbed into our bloodstream and circulated throughout our body. This is why using truly natural skincare products is so important.
When products are used that contain toxic synthetic ingredients, not only is there more work put on our bodies to detoxify these ingredients, but significant imbalances can develop as a result of some of these ingredients.
For example, many of the most toxic ingredients in skincare products are referred to as "endocrine disruptors." These are synthetic chemicals that either mimic various hormones within the body, or have an adverse impact on the proper functioning of your hormones and endocrine system.
This is hugely important because achieving and maintaining hormone balance (such as your thyroid and adrenal hormones, as well as your sex hormones estrogen, progesterone, testosterone, DHEA, etc) is of absolute necessity to achieve and maintain optimal health.
Furthermore, hormone imbalances (such as estrogen dominance) are at the root of many common cancers such as breast and ovarian cancer.
These toxic chemicals can also have a neurotoxic effect on the body, meaning they are harmful to the brain.
In addition, many such ingredients act as carcinogens in general, which means that they have the potential to cause many different kinds of cancer, not just cancers involving the reproductive system as mentioned previously.
Taking the steps to avoid using products that contain these toxins and can contribute to these imbalances will have a very beneficial impact on your health.
Toxic Ingredients to Avoid in Skincare Products
---
It is important to get in the habit of checking labels on all of your personal care products, especially your skincare. If there isn't an ingredients list clearly printed on the product label, you can contact the company directly to acquire one.
The following are some examples of toxic ingredients that you should look out for and avoid in your skincare products:
Phthalates are a group of chemicals that are used in a variety of products as a way of making plastics harder to break while remaining flexible. Hair sprays, nail polish, and synthetic fragrances are common products that can contain phthalates.
Examples of phthalates: dimethyl phthalate (DMP), diethyl phthalate (DEP), dibutyl phthalate (DBP)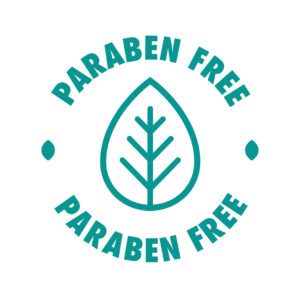 Parabens are used as a preservative in a great deal of products, including cosmetics and skincare products. They are powerful endocrine disruptors and have an adverse impact on the balance of hormones within the body, which can contribute to many health conditions and imbalances.
Examples of parabens: polyparaben, methylparaben, butylparaben, isobutylparaben, propylparaben
Formaldehyde is a carcinogen that is used as a preservative in many cosmetics, "food" products, and personal care products. There are also ingredients that can cause formaldehyde to be released.
Examples of formaldehyde releasing ingredients: imidazolidinyl urea, DMDM hydantoin, diazolidinyl urea, bronopol (2-bromo-2-nitropropane-1,3-diol), hydroxymethylglycinate
Ethanolamines are carcinogens that are chemicals used in products as a surfactant (to make a product foam), preservative, fragrance, and cleanser. They are commonly found in cosmetics and skincare products.
Examples of ethanolamines: cocamide DEA, lauramide DEA, myristamide DEA, oleamide DEA, TEA-lauryl sulfate, triethanolamine, DEA oleth-3 phosphate, DEA-cetyl phosphate,
Butylated hydroxytoluene (BHT) and butylated hyroxyanisole (BHA)
BHT and BHA are endocrine distruptors and carcinogens that are used as preservatives in "food" products, skincare, and cosmetics.
This ingredient is usually listed as BHT or BHA.
The Best Natural Skincare Line: Cocokind
---
Natural skincare products are just as if not more effective than toxic, synthetic products. That is most certainly exemplified by the best line of natural skincare products that I have found and use – Cocokind.
One of the things that stands out the most about Cocokind is that they really are natural. A lot of "natural" skincare lines will taught that they use all "clean" ingredients and their products are totally "natural" but when you investigate further, a lot of the ingredients are still hazardous.
Cocokind is totally different. In fact, a lot of their ingredients are whole foods. They use only what is necessary and leave out all of the needless toxic ingredients that are so common in most skincare products.
They are gluten free and 100% cruelty free, which means that these products have never been tested on animals.
Most of the ingredients used in their products are certified organic.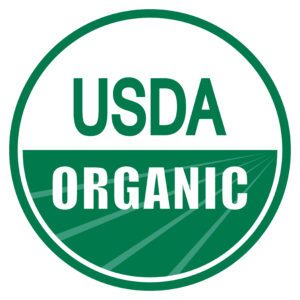 Also, a key factor for any natural skincare product that I use is that it is soy free. This is because soy is a powerful phytoestrogen, and can contribute to the development of or exacerbate an existing state of estrogen dominance.
Estrogen dominance is a big contributor to endometriosis and other such conditions, so it is important to avoid soy in all foods and skincare products. Estrogen dominance and endometriosis are explained further here.
All of the following products are soy free.
These products are also super high in antioxidants. Free radicals can contribute to the development of premature wrinkles and sagging, so natural skincare products that are high in antioxidants are very effective at smoothing skin, keeping it firm, and helping to protect it from the adverse effects of free radicals. This topic is explained further here.
Everyone's skincare routine is slightly different depending on their unique needs, but in general, I utilize the following order for mine in the morning. I usually use fewer products in the morning for the day and then the more intensely moisturizing products and eye creams at night:
Cleanser
Toner
Sunscreen
Moisturizer
And then the following order at night before bed:
Cleanser
Mask
Spot treatment if needed
Toner
Serum
Moisturizer or facial oil
Eye cream
Some of my favorite products from Cocokind that I use frequently are:
Organic Ultra Chlorophyll Mask
This is the first Cocokind product that I ever tried and it is what initially introduced me to this extraordinary line of products. I've been using it for about 5 years.
This is a detoxifying mask that helps to brighten and smooth your skin. It can also help to reduce puffiness and improve the overall look of your complexion.
The only ingredients in the Organic Ultra Chlorophyll Mask are spirulina, wheat grass, chlorella, and ylang ylang (canaga odorata flower).
Each ingredient is organic.
All of the ingredients are high in chlorophyll, which is a compound that has many health benefits, including being a powerful antioxidant and anti-inflammatory. It is also rich in magnesium and vitamins A, K, E, and C.
All of these properties make it an exceptionally effective treatment for the skin.
I noticed a difference in my skin after using the mask the first time. After I rinsed it off, my skin was so soft. With continued use, my skin continued to improve and my pores have become noticeably smaller and less visible.
TO USE: After cleansing your face, use the included spatula and scoop a full scoop onto your palm or a small plate. Then use an equal amount of water/liquid or an ingredient such as honey to mix the mask powder. I usually use distilled aloe juice or water to mix, and I typically use a little more powder compared to liquid so it is a pretty thick consistency.
Then apply all over your face, avoiding your eye area, lips, and nostril area. Leave on for at least 20 minutes and rinse thoroughly. Repeat 3 to 4 times per week.
Click here to check out the Ultra Chlorophyll Mask.
The chronic health conditions that I have been healing from all contribute to having dry skin, so keeping my skin hydrated has been a focus, especially in the colder months. This kit has been awesome for this purpose.
I prefer to purchase the Youthful Routine kit because I use all of these products anyway and it's a better deal than buying them individually.
It includes:
–Oil to milk cleanser: this is a very gentle
cleanser that is hydrating and soothing to the skin. It is a great all around cleanser and also works as an effective makeup remover.
One of the key ingredients is fermented oat and oat lipid complex, which serve as prebiotics for the skin. This helps support the microbiome of your skin which is nourishing to its overall health.
TO USE: With damp hands, apply a dime sized amount of the cleanser to your fingers and massage into dry or slightly damp skin. Rinse thoroughly. Use as the first step of your morning and evening skincare routine.
–Vitamin C serum with sea grape caviar: sea grape caviar is an algae that is super hydrating to the skin. Vitamin C is a potent antioxidant and it has a brightening effect on the skin. It also includes sunflower and grapefruit oil, which are both powerful antioxidants as well.
This serum really helps to even out the tone of your skin and lighten the appearance of any dark spots. It is also helpful to minimizing the appearance of your pores. It is also brightening and hydrating.
One of the most noticeable effects I experienced with this serum is how it has helped to reduce and fade pimple scars.
Because I have experienced severe hormone imbalance, skin breakouts were quite frequent and some of them left scars. This serum has really helped with them, along with the turmeric spot treatment below.
TO USE: Massage 1 to 2 drops evenly into skin. Serums are usually best applied right before your moisturizer (either a cream or oil) and can be used as part of both your morning and night skincare routines.
This serum is lightweight and feels soothing on the skin.
–Ceramide barrier serum: ceramides are lipids that keep the skin barrier healthy and strong. A healthy skin barrier is needed to seal in moisture and protect against environmental stressors. Making sure to include a ceramide product in your skincare routine helps to cover this important base for skin health.
This product contains a plethora of natural ingredients that contain ceramides and ceramide precursors that help to encourage natural ceramide production.
TO USE: After cleanser and toner, massage 2 to 3 drops of serum evenly into skin. Can be used both am and pm. I personally use it mostly at night, but sometimes in the morning. It works well under makeup.
–Organic chia face oil: this oil is simply chia seed oil, which is high in omega 3 fatty acids. Omega 3's are super anti-inflammatory and high in antioxidants so they are soothing to the skin and help prevent premature aging. This oil is also very hydrating so it can be used in place of a moisturizer. I use it about every other day as part of my night skincare routine.
TO USE: Usually used as one of the last steps in your skincare routine (after cleanser, toner, and serum), massage 2 to 3 drops into the skin thoroughly.
–Revitalizing eye cream: this cream helps to reduce fine links, wrinkles, dark circles, and puffiness in the eye area. It is also very hydrating and soothing to the skin.
It contains Persian silk tree, hibiscus flower acids, and oat extract all of which brighten, smooth, exfoliate, refresh, and moisturize the skin. These ingredients are all gentle, which is perfect for the delicate under eye area.
It feels super light and refreshing after it's applied.
I noticed a difference in my eye area about 3 weeks into using this eye cream. My under eye area appears brighter and fine lines are definitely less noticeable.
TO USE: Apply a small amount to the eye area and gently massage into the skin. This can be applied after cleanser and toner, before or after your moisturizer. It can be used morning and night and goes well under makeup. I prefer to apply eye cream last in my routine at night before bed.
Click here to check out the Youthful Routine kit.
This was the second Cocokind product I ever tried and it has remained one of my staples.
This product can be used to lighten dark spots, fade scars, treat acne and pimples, and unclog pores.
The only ingredients in the Turmeric Spot Treatment are turmeric, sunflower seed oil, beeswax, ginger root, and tea tree oil.
Turmeric (specifically curcumin, which is the chemical in turmeric that makes it such a powerful healing agent), ginger, and tea tree are all powerful anti-inflammatories and antioxidants. Tea tree oil also helps to treat pimples and is purifying and soothing to the skin.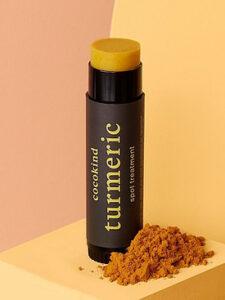 This product has helped to fade my pimple scars (along with the vitamin C serum above) and it noticably accelerates the elimination of a new pimple.
TO USE: Apply to cleansed skin, directly to the areas you want to treat and leave on for at least 20 minutes. I use an organic cotton q-tip instead of applying the stick directly to my skin. This spot treatment is great to use under the chlorophyll mask included above. It can also be left on overnight, but be sure to put a towel or something similar on your pillow to protect your sheets because turmeric can stain :).
The spot treatment can be removed with a cleanser or toner on a cotton pad or as part of your regular cleansing routine.
Click here to check out the Turmeric Spot Treatment.
I also use manuka honey as a spot treatment along with this turmeric treatment, as it's an awesome natural skincare tool :).
A "toner" in skincare is basically like a preparatory step that prepares the skin for your additional products. It also adds moisture, protects the skin, soothes & refreshes, and can shrink pores.
This toner in particular is super gentle and very refreshing.
The only ingredients in the Rose Water Toner are rose water and radish root ferment, which also help to balance the pH of your skin (the acidity or alkaline level of your skin). Skin should be slightly on the acidic side, with a pH level of around 5 or 6.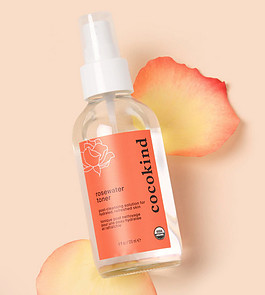 TO USE: Spray 1 or 2 sprays onto a cotton pad and apply evenly on your face. Or, you can spray the mist directly onto your skin. I prefer to spray it directly onto my face, as its super refreshing.
This product can also be used to refresh your skin throughout the day, or to set your makeup.
It is also nice to keep it in the refrigerator during the warmer months of the year and use it to refresh your face during the day. It feels and smells lovely :).
Click here to check out the Rose Water Toner.
This product can be used all over your body.
The only ingredients in this product (all organic) are coconut oil, lavender oil, beeswax, and shea butter.
I use the Skin Butter as a body lotion after getting out of the shower if I shower in the evening that day, as I prefer to use this as an overnight moisturizing treatment.
I use it about a few times per week.
It is also great to use on your feet, as it is super moisturizing and soothing.
Lavender essential oil also has lots of awesome health benefits, which are explained further here. It is calming and relaxing, which is also why it is great to use at night before bed.
TO USE: After getting out of the shower, apply all over the body evenly, focusing on dry areas.
Click here to check out the Skin Butter.
In Closing…
As we've explored here, using natural skincare is a very important step to take when transitioning to a more health conscious lifestyle.
The products that we put on our skin are of equal importance to the food that we eat, as it is all absorbed and metabolized by our body.
Skincare lines such as Cocokind provide products that are affordable, conscious, and truly natural that are a wonderful addition to your collection of clean and healing personal care products.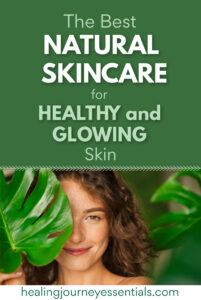 ---
REFERENCES