The Best Natural Remedies for Endometriosis Pain: Resources for True Relief
Posted On June 15, 2022
Endometriosis is an often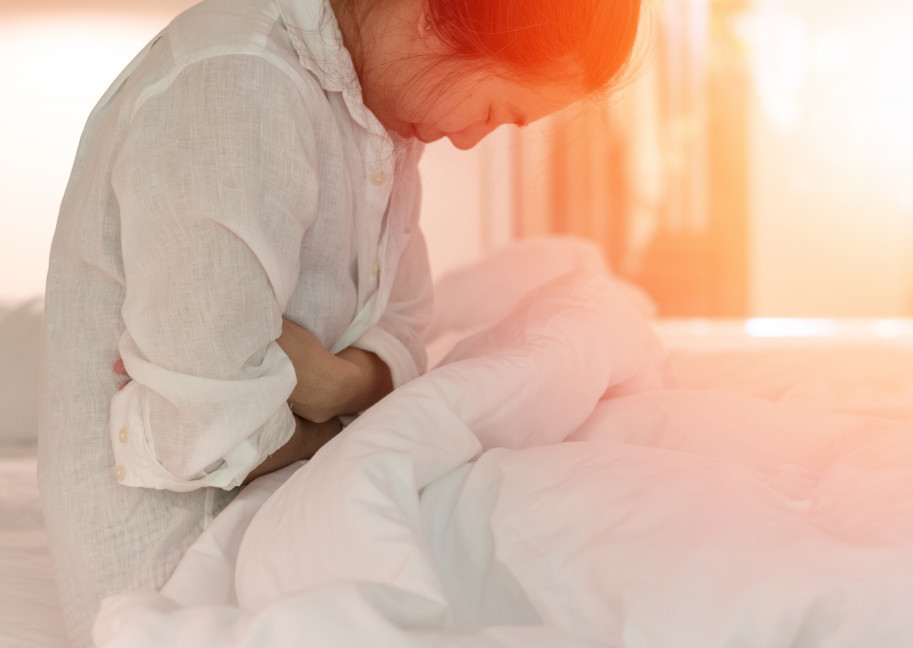 challenging medical condition
that is experienced by many women today.
The pain that is associated with endometriosis is one of the most challenging components of the condition, as it can be extremely severe in many cases.
There are natural remedies for endometriosis pain that can be used as management in the moment, as well as methods to address the underlying cause of this condition, which in turn alleviates pain long-term. We will explore both of these avenues in this article.
If you are personally experiencing endometriosis and the symptoms that can come along with it, I truly empathize with you. This can be an extremely difficult condition to experience and often requires a multifactorial approach to healing.
Some of the links in this article are affiliate links. This means that if you click the link and subsequently make a purchase on the merchant's website, we may earn a small commission at absolutely no additional cost to you. All opinions are entirely my own. I have used all products mentioned personally for years.
What Is Endometriosis?
---
Endometriosis is a condition in which the tissue that normally lines the uterus, called the endometrium, grows outside of the uterus in various locations within the abdomen and pelvis such as on the ovaries, the fallopian tubes, and the intestines.
In some cases, the tissue can also be found in the upper abdomen such as on the diaphragm. This is referred to as diaphragmatic endometriosis.
This tissue that is found outside of the uterus behaves within the body just as the normal intrauterine tissue does. With each menstrual cycle, it thickens, breaks down, and bleeds. However, because it is not located within the uterus it has no avenue by which to exit the body and becomes trapped.
This then leads to inflammation and swelling of the tissues at and around the affected areas, which can cause severe pain.
Endometriosis is common, with an estimated 1 in 10 women between the ages of 15 – 49 being impacted.
Much more on endometriosis in general, its symptoms, and underlying causes can be found here.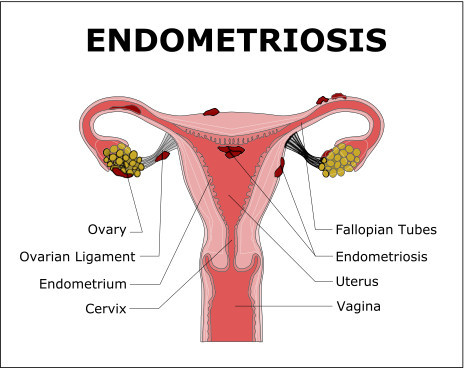 Treatment Options and Addressing Endometriosis Pain
---
While there are tools that can be used to soothe pain and essentially "manage" the existing pain in the moment, reducing pain long-term involves addressing the underlying cause of the pain.
As discussed in this article, one of the main underlying causes of this condition is a hormone imbalance called estrogen dominance, as endometriosis is considered an "estrogen dependent" condition. Therefore, a key component of treatment involves balancing estrogen dominance and its associated effects on the body.
Treating endometriosis via natural healthcare will address the underlying causes in addition to managing the symptoms as opposed to solely treating the symptoms.
The following are areas to address and consider as part of a treatment protocol:
1. Estrogen Metabolism Support + Balancing Estrogen Dominance
As explained above, estrogen dominance can be a big contributor to the development of endometriosis, so addressing this area is often an important part of treatment.
For me personally, the only time I have experienced a notable improvement in endometriosis symptoms is when I am actively balancing estrogen dominance and am supporting my estrogen metabolism.
The following can be used as tools to help balance estrogen and improve estrogen metabolism:
Diindolylmethane is a compound derived from the metabolism of indol-3-carbinol, a compound found in cruciferous vegetables such as broccoli, brussels sprouts, cauliflower, and cabbage. This compound is
also available as a supplement.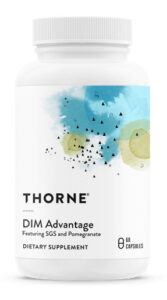 DIM helps to increase levels of "2-hydroxy" estrogens which are considered beneficial estrogens, and reduces levels of "16-hydroxy" estrogens, which are considered more harmful.
DIM is also an aromatase inhibitor, which means it helps lower estrogen by stopping the aromatase enzyme from converting other hormones into estrogen.
I have taken Thorne DIM Advantage for years, and out of the many DIM supplements I have tried, have found it to be the most effective.
Along with DIM, it also contains sulforaphane glucosinolate from broccoli seed extract and pomegranate extract, both of which also help to support the successful detoxification of excess estrogen.
I noticed its effects within about a month, particularly with improving breast tenderness and water retention.
Dosing is completely individual, yet an average dose is around 150-300mg per day, which is 1 to 2 capsules per day.
Click here to check it out Thorne DIM Advantage.
⭐️When you use the above purple links, you will automatically receive a 5% discount on your order at Thorne :)⭐️
Excess estrogen is primarily metabolized in the liver and eliminated via the gut. There are 2 main phases of liver detoxification and calcium d-glucarate helps to support phase 2 of this process which can ensure that excess estrogen is being successfully eliminated from the body.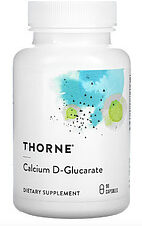 I've used Thorne Calcium D-Glucarate for years and have found it to be the best as it is effective, yet gentle and well-tolerated.
The standard dose for this supplement is 1 capsule, 2 to 3 times daily
Click here to check out Throne Calcium D-Glucarate.
When you use the above purple links, you will automatically receive a 5% discount on your order at Thorne 🙂
Natural Progesterone Cream
Natural bioidentical progesterone cream is a tool that can be used to help balance estrogen and progesterone, in turn balancing estrogen dominance. Natural progesterone cream is key, vs. synthetic progesterone products.
Natural progesterone creams are derived from wild yam and mimic the progesterone that is naturally produced by a woman's body. These products can be helpful in balancing estrogen dominance by increasing progesterone levels.
The method of application is important with progesterone cream, as applying it on surfaces of the skin on various areas throughout the body as is commonly recommended, can lead to a build up of the hormone in fat cells (it is fat soluble) which further contributes to hormone imbalance.
To mimic the natural administration of the progesterone hormone and avoid a build up within the fat cells, a vaginal application is optimal. This will deliver the hormone via the mucous epithelial membranes that line these areas, which is more ideal for increasing progesterone levels and avoiding side effects or contributing to further imbalance.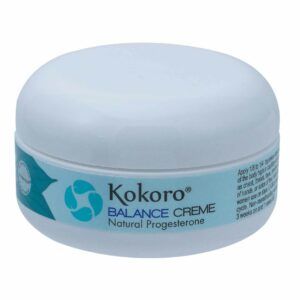 Using a cream that does not contain soy or any other phytoestrogen is key.
The best cream I have found is Kokoro Balance Creme. It does not contain phytoestrogens/soy as most natural progesterone creams do. It is gentle and effective, and I noticed a reduction in endometriosis symptoms and severity of pain within about 2 months.
Typically, this cream is administered twice per day in the morning and evening, starting around day 14 of the menstrual cycle and ending about a day before expected menses, around day 28. Dosing is very individual, yet the average dose for most premenopausal women is 20-40mg per day.
Click here to check it out.
Xenoestrogens are chemicals that disrupt our body's hormone balance, also known as endocrine disruptors. They mimic the estrogen hormone in the body, contributing to imbalance.
Xenoestrogens can be found in many common items such as conventional household cleaners, food preservatives and dyes, plastics, industrial waste, synthetic hormone replacement therapies, tap water, the birth control pill, nail polish, some prescription drugs, dryer sheets, chlorinated water, receipt paper, pesticides, and more.
It is nearly impossible to avoid all xenoestrogens in today's world, however it is entirely possible to greatly reduce one's exposure.
Some ways to reduce your exposure to xenoestrogens include:
Switching to natural cleaning products and dish soaps.
Eating mostly organic foods especially organic meats (many types of conventional meats can also contain added hormones).
Using glass or stainless steel containers for food and to drink out of instead of plastic (especially when heating something, as xenoestrogens from plastic are transferred to the substance within the container much more easily when heated). Water bottles like a Hydro Flask are awesome substitutes for plastic bottles as they are reusable, durable, and long-lasting.
Using natural laundry products including natural dryer sheets or switching to wool dryer balls.
Switching to more natural and "clean" personal care and beauty products, such as

this natural skincare line

that I've used for years and absolutely love.
Avoid Phytoestrogens
Phytoestrogens are plant-based compounds that also mimic estrogen in the body. Some of the main phytoestrogen sources include soy, vegetable oils, licorice, red clover, hops, black cohosh, dong qu, yellow dock, and ginseng.
Soy is a very powerful phystoestrogen and is found in many many
personal care products, packaged foods, and supplements. It is important to check
labels to make sure most of the products you are consuming are free of
soy.
I have gotten into the habit of contacting all of the companies that I purchase my personal care products, cleaning products, etc from to confirm that a product is soy-free before purchasing it. The company's contact information should be available on their website.
As a note, most of the time, if a product says "tocopherol", this is usually derived from soy. Sunflower is an acceptable substitute that can also be used as a source of this ingredient.
2. Reduce Inflammation
Excess inflammation in general can exacerbate the symptoms of endometriosis, especially pain, so it is helpful to support this area.
Adhering to an anti-inflammatory, healthful diet/eating plan is a key part of the healing process, explained further here.
Other ways to reduce and balance inflammation can include:
Omega 3 fatty acids such as fish oil (soy free)
Ginger
Black Cumin Seed Oil
Green tea
Curcumin Phytosome – curcumin is the active compound in turmeric that gives it its powerful healing and anti-inflammatory properties. This form is bound to phospholipids, which makes it more readily absorbed by the body.
Thorne Curcumin Phytosome is the most clinically studied curcumin on the market and has demonstrated a 29-times greater absorption rate than any other curcumin product. The curcumin in this supplement is bound to phospholipids which provides superior absorption and bioavailability.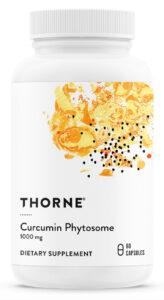 I've tried several different curcumin supplements, and this one provided the most noticeable benefits in helping to reduce menstrual cramping and helping to reduce endometriosis pain as well. The pain I've had from endometriosis is much different than menstrual cramps, as it is more of a radiating, pulsing, stabbing pain. Anti-inflammatory agents such as this one are big help for it, as inflammation is at the root of what is causing the pain.
The standard dose is 1 to 2 capsules twice daily, with or without food.
Click here to check it out.
⭐️ When you use the above purple links, you will automatically receive a 5% discount on your order at Thorne :)⭐️
3. Treat Unique Contributing Factors
Additional inflammatory/immune system related conditions can contribute to the development of or worsen an existing presence of endometriosis. Treating these conditions will in turn have positive healing effects on endometriosis.
For me, this meant treating Biotoxin Illness/Mold Toxicity as well, which was one of the underlying causes and compounding factors of my case of endometriosis. Click here for more information on this condition and its associated steps for healing.
4. Pain Management
While treating the underlying cause is of course necessary, symptom management is also a key component of endometriosis treatment, in large part because the symptoms, particularly the pain, can be so debilitating.
Natural Pain Relief Patches
Natural pain relief patches, often containing gentle and soothing ingredients such as menthol and eucalyptus, can be helpful in reducing pain. These can be applied on the skin directly over the most affected areas.
Acupuncture is a form of Traditional Chinese Medicine that involves using tiny needles at various meridian points throughout the body. This can be a helpful form of pain management.
Massage therapy can be helpful as an overall tool to keep muscles and tendons relaxed, which tend to become tense during endometriosis "flare-ups."
Hot Water Bottle/Heating Pad
A hot water bottle or heating pad placed over the affected areas can help soothe pain. These are mostly helpful for intense menstrual cramping, but can also help soothe stabbing/pulsing pain as well.
Warm (not hot) baths can be soothing and help a little bit with pain reduction.
Essential oils are helpful in reducing inflammation, which is what is causing the pain associated with endometriosis. Essential oils are explained much further here.
Particularly, I have found Vibrant Blue Oils Anti-Inflammatory oil to be helpful with soothing endometriosis pain. I apply 2-3 drops over the abdominal area 2 to 3 times per day.
Vibrant Blue Oils is one of the most wonderful healing resources I have come across in my long healing journey.
More information on this company and their specialty line of organic essential oils can be found here.
While not ideal and not recommended long term, the judicious use of over the counter pain relievers or prescription pain relievers are sometimes necessary to manage pain while other treatment options are being explored.
5. Surgery
Surgery may be necessary for moderate to severe cases. There are 2 main forms of surgery that are used, both requiring the use of general anesthesia.
Laparoscopic Excision Surgery (LAPEX)
This is the most recommended and preferred surgical technique to surgically remove the endometrial tissue. This is also used to officially diagnose endometriosis, as it can be difficult to accurately locate via ultrasound or similar non-invasive scans. Often, diagnosis and surgical removal of the tissue is performed during the same procedure.
Laparoscopic surgery, sometimes referred to as "keyhole surgery", is a form of minimally invasive surgery that involves cutting small incisions in the abdomen and using a laparoscope (a long slender tool with a small camera and light on the end of it) to assess the scope of the condition, find the locations of the endometrial tissue, and
subsequently remove the tissue.
With laparoscopic excision surgery, the tissue is cut out by its root. This technique makes it much less likely that the tissue will regrow in the future.
The surgeon must also exercise caution so as to maintain the integrity of the surrounding healthy tissue.
Recovery time is usually around 6 weeks, but can be shorter with less severe cases.
Sometimes, additional procedures are needed following the initial procedure in order to remove all of the tissue found.
It is best to utilize a medical professional that is highly experienced and specializes in this form of surgery.
Laparoscopic Ablation Surgery
This procedure uses the same laparoscopic technique as described above, however ablation is used as the removal technique instead of excision. Ablation is using very high heat to remove the tissue, in essence, it is burning the tissue off.
Ablation can leave parts of the tissue behind under the surface, which can then reflourish in the affected areas and often lead to the need for additional surgeries.
This is one of the reasons that excision is typically recommended vs. ablation, because excision removes the tissue at the root, which makes it less likely that the endometrial tissue will return.
In Closing…
As we've explored here, addressing endometriosis pain involves treating the underlying cause of this challenging condition, while also implementing helpful natural tools to manage pain in the moment.
If you or someone you love is currently going though the challenges associated with endometriosis, I deeply empathize with you. You will get through this!
I'm sending you strength, peace, and healing…you've got this 💜.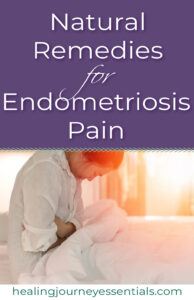 ---
REFERENCES